Биография Даниеля Дефо на английском языке
Здесь вы можете прочитать биографию Даниеля Дефо на английском языке.
Daniel Defoe (1660 — 24.04.1731) — English writer.
Daniel Defoe (nee Daniel Foe) was born around 1659-1660 in Cripplegate, which is near London. He was a prominent English writer, essayist, pamphleteer, trader and spy. He became well-known after his novel "Robinson Crusoe". He was also the founder of economic journalism in the UK. His father was a tradesman, but he wanted his son to become a pastor. Thus, he sent Daniel to the seminary in Newington Green. The boy studied classical literature, as well as Latin and Greek there. However, he drew a completely different path — business and trade.
He was rather ambitious by nature and he could afford to buy a real estate or even a ship, but he was often trapped in debts. However, business was not the only interest of Defo. He lived a bright and busy life. He actively participated in political life of England and was one of the rebels against King James II Stuart. For that reason, he had to hide in different cities to avoid jail. In 1684 he married a daughter of a successful merchant. Nobody believed that his marriage with Mary Tuffley would last, but they actually lived together for 50 years and produced eight children.
His literary career began with pamphlets and satirical poems. His first remarkable publication was "An Essay upon Projects". In 1701 he wrote a pamphlet "The True-Born Englishman", in which he ridiculed the aristocracy. Although he gained incredible popularity, he was sentenced to the pillory and giant fine by the authorities. At that time he also lost his business. His imprisonment could be very long if he wasn't rescued by Robert Harley, who was the speaker of the House of Lords. Since then, the writer became a secret agent who collected all the necessary information in England and Scotland for Harley.
In 1704 he was hired as an editor of articles for the periodical "Review". Being a journalist, he found time to write literary works. In 1719 his book "The Life and Strange Surprizing Adventures of Robinson Crusoe" was released. This work was included in the treasury of world literature and brought its author instant success. The same year, he wrote "The Further Adventures of Robinson Crusoe", and a year later another sequel story. However, the glory of his first book about Robinson Crusoe was unattainable. Defo died in April, 1731, I London.
Daniel Defoe
Who Was Daniel Defoe?
Daniel Defoe became a merchant and participated in several failing businesses, facing bankruptcy and aggressive creditors. He was also a prolific political pamphleteer which landed him in prison for slander. Late in life he turned his pen to fiction and wrote Robinson Crusoe, one of the most widely read and influential novels of all time.
Early Life
Daniel Foe, born circa 1660, was the son of James Foe, a London butcher. Daniel later changed his name to Daniel Defoe, wanting to sound more gentlemanly.
Defoe graduated from an academy at Newington Green, run by the Reverend Charles Morton. Not long after, in 1683, he went into business, having given up an earlier intent on becoming a dissenting minister. He traveled often, selling such goods as wine and wool, but was rarely out of debt. He went bankrupt in 1692 (paying his debts for nearly a decade thereafter), and by 1703, decided to leave the business industry altogether.
Acclaimed Writer
Having always been interested in politics, Defoe published his first literary piece, a political pamphlet, in 1683. He continued to write political works, working as a journalist, until the early 1700s. Many of Defoe's works during this period targeted support for King William III, also known as «William Henry of Orange.» Some of his most popular works include The True-Born Englishman, which shed light on racial prejudice in England following attacks on William for being a foreigner; and the Review, a periodical that was published from 1704 to 1713, during the reign of Queen Anne, King William II's successor. Political opponents of Defoe's repeatedly had him imprisoned for his writing in 1713.
READ NEXT
Cristeta Comerford
Martha Mitchell
Riz Ahmed
Defoe took a new literary path in 1719, around the age of 59, when he published Robinson Crusoe, a fiction novel based on several short essays that he had composed over the years. A handful of novels followed soon after—often with rogues and criminals as lead characters—including Moll Flanders, Colonel Jack, Captain Singleton, Journal of the Plague Year and his last major fiction piece, Roxana (1724).
In the mid-1720s, Defoe returned to writing editorial pieces, focusing on such subjects as morality, politics and the breakdown of social order in England. Some of his later works include Everybody's Business is Nobody's Business (1725); the nonfiction essay «Conjugal Lewdness: or, Matrimonial Whoredom» (1727); and a follow-up piece to the «Conjugal Lewdness» essay, entitled «A Treatise Concerning the Use and Abuse of the Marriage Bed.»
Death and Legacy
Defoe died on April 24, 1731. While little is known about Defoe's personal life—largely due to a lack of documentation—Defoe is remembered today as a prolific journalist and author, and has been lauded for his hundreds of fiction and nonfiction works, from political pamphlets to other journalistic pieces, to fantasy-filled novels. The characters that Defoe created in his fiction books have been brought to life countless times over the years, in editorial works, as well as stage and screen productions.
Fact Check
We strive for accuracy and fairness. If you see something that doesn't look right, contact us!
Daniel Defoe Biography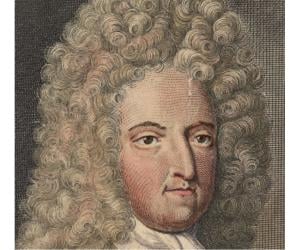 Born In: London, England
Till date, Daniel Defoe is considered to be the founder of British journalism. In his life, he served as a trader, writer, journalist, pamphleteer, and spy. Starting off to train himself at the ministry, he opted to become a merchant and started several businesses. However, none of those flourished well as he was constantly under the realm of facing bankruptcy and aggressive creditors. It was his political interest and aspirations that led him to serve as a prolific political pamphleteer. He penned a number of political essays and works before finally turning to fiction to pen his most famous work, 'Robinson Crusoe'. He is widely recalled as one of the earliest proponents of novel writing. He encouraged novel writing and reading along with fellow novelists such as Samuel Richardson and so on. Immensely talented and skilled, he is said to have published over 560 books and pamphlets, on various topics including politics, crime, religion, marriage, psychology and supernatural.