Биография Конора Макгрегора На Английском
Conor Anthony McGregor (Ко́нор Э́нтони Макгре́гор)
| | |
| --- | --- |
| | |
| Conor McGregor | Conor McGregor |
In the picture you can see a man.
На картинке вы можете видеть мужчину.
He is around 35 years old.
Ему около 35 лет.
His hair is ginger colored and combed back.
Его волосы рыжего цвета и зачесаны назад.
His forehead is slopped.
Его лоб покатый.
His eyes are brown and focused.
Его глаза карие и сосредоточены.
His nose is straight and he is wearing a beard.
У него прямой нос и он носит бороду.
His lips are natural.
Его губы натуральные.
He has an oval face.
У него овальное лицо.
His ears are square.
Его уши квадратные.
His has a square chin.
У него квадратный подбородок.
His temples are shaved.
Его виски выбриты.
He has a calm expression on his face.
У него спокойное выражение лица.
He looks like a tough and strong-willed man.
Он выглядит как крепкий и волевой человек.
About Conor McGregor
Conor Anthony McGregor (born Conil Anthony McGregor) was born on the 14 th of July, 1988, in Dublin, Ireland. C onor is an Irish fighter of Mixed Marsha Arts (MMA). McGregor has two sisters, named Erin and Aoife.
He first became interested in sports, in particular (1) football. McGregor played for the football club «Luders Celtic» and was a fan of the English Premier League club «Manchester United».
In 2006, together with his family, they moved to Lucan. There, McGregor went to the secondary school «Colaiste Cois Life». After graduation (2) , he began to study to be a professional plumber (3) . In Lucan, he met the future UFC fighter Tom Egan and they soon started training in Mixed Martial Arts (MMA) together.
Conor MacGregor is undoubtedly (4) a phenomenon in the world of MMA. This Irish fighter from the family of ordinary workers is only 31 years old, but he has already beaten many great fighters and earned millions of dollars.
Conor McGregor successfully combines (5) boxing techniques and taekwondo-powerful punches and kicks to the head and body. Excellent percussion (6) technique is combined with excellent wrestling (7) skills.
Outside of the ring, Conor is known as a good person, endlessly (8) devoted (9) to family and friends. He has a very unusual sense of humor.
His wife Dee Devlin and he have two children.
Vocabulary (используйте карточки для слов, которые сложно запоминаются):
in particular [pərˈtɪkjələr]
graduation [ˌɡrædʒuˈeɪʃn ]
окончание учебного заведения
plumber [ˈplʌmər]
undoubtedly [ʌnˈdaʊtɪdli]
combine [kəmˈbaɪn]
percussion [pərˈkʌʃn]
wrestling [ˈreslɪŋ ]
Conor McGregor
Who Is Conor McGregor?
Conor McGregor rose from a tough neighborhood to become the biggest star in the sport of mixed martial arts (MMA). After joining the Ultimate Fighting Championship (UFC) in 2013, «The Notorious» unified the featherweight division with his title win in 2015, and the following year he became a two-division champion by winning the lightweight title. McGregor also famously fought boxing champion Floyd Mayweather Jr. in 2017. He abruptly retired from MMA in March 2019, before returning with a victory in January 2020.
Early Life
Conor Anthony McGregor was born to parents Tony and Margaret McGregor on July 14, 1988, in Dublin, Ireland. Raised in the rough working-class section of Crumlin, McGregor enjoyed playing soccer as a boy before finding an outlet for his aggression in boxing. He was a member of the Crumlin Boxing Club from age 11 to 17, winning a Dublin Novice Championship during that time.
In his later teen years, McGregor began training in the still little-known sport of mixed martial arts, under John Kavanagh. He also found a job as an apprentice plumber but elected to forego the profession, over his parents' objections, to pursue his dream of becoming a professional fighter.
MMA Career
Cage Warriors
McGregor made his professional debut on March 8, 2008, for the London-based promotion Cage Warriors, winning by TKO. He lost two of his first six fights before reeling off an impressive winning streak, claiming both the featherweight championship and the lightweight championship in 2012.
Signed by UFC President Dana White in early 2013, McGregor impressed with a first-round knockout in his April debut for the organization. He continued his winning ways through July 2015, when he defeated Chad Mendes for the interim featherweight title. That December, he knocked out Jose Aldo in a record 13 seconds to unify the featherweight title.
McGregor Vs. Diaz 1 and 2
When lightweight champion Rafael dos Anjos pulled out of their planned March 2016 title bout due to injury, McGregor jumped one more weight class to fight Nate Diaz at 170 pounds. The Irishman was eventually worn down by the bigger Diaz before submitting to a chokehold, ending his 15-match winning streak.
In their much-anticipated rematch that August, McGregor again jumped out to a fast start before the tide turned. This time he rebounded to win the crucial fourth round and held on through Diaz's desperate late flurry to win the instant classic by majority decision.
Two-Division Champion
Dropping back to the more comfortable lightweight class, McGregor delivered another impressive performance with a second-round TKO of Eddie Alvarez in November 2016, simultaneously making him the UFC's lightweight and featherweight champions.
Stripped Titles and Loss to Nurmagomedov
McGregor's relationship with the UFC became strained when his inactivity in the octagon prompted its president to strip the fighter of his featherweight and lightweight titles by early 2018.
McGregor made his long-awaited return in October 2018, nearly two years after his last UFC fight, to challenge the new lightweight champ, Khabib Nurmagomedov. Right after Nurmagomedov's fourth-round win, the two sides erupted in a post-match brawl, resulting in a six-month suspension for McGregor.
Retirement and Return Vs. Cerrone
On March 26, 2019, McGregor announced via Twitter that he was retiring from the sport that made him famous, concluding his MMA career with a record of 21 wins and four losses. However, later in the year the fighter confirmed that he intended to make a comeback in January 2020.
McGregor's return was a success, as he finished off American Donald «Cowboy» Cerrone with a 40-second TKO — the second-fastest win of his career, and his first victory in more than three years.
READ NEXT
Cristeta Comerford
Martha Mitchell
Riz Ahmed
Height and Fighting Style
McGregor stands 5'9″ and has a 74″ reach, measurements that usually give him an advantage in his matches. He has mostly fought as a featherweight (145 pounds) and lightweight (155 pounds) but has beefed up to 170 pounds for his welterweight bouts.
McGregor has trained in a variety of disciplines, including Capoeira, Tae Kwon Do and Karate, and holds a brown belt with the grappling techniques of Brazilian Jiu Jitsu. However, he is primarily known for his pure punching power, specifically for a left hook that has sent numerous opponents to the mat.
The Infamous Suit
Kicking off the promotional tour of his bout with Floyd Mayweather in the summer of 2017, McGregor wore a spiffy pinstripe suit which, upon closer review, revealed the pinstripes to be made by lines of the phrase «F*** You.»
Less than two weeks later, the suitmaker, David August, Inc., announced it would release a limited edition of the profane garment to satisfy demands. According to the company website, the made-to-measure three-piece wool suit would cost $6,500, with an estimated completion time of 12 to 15 weeks.
Tattoos
Along with his fighting prowess and brash statements, McGregor is known for the numerous tattoos that adorn his body. He says he received his first tattoo of Arabic writing on his left heel at age 20 after a night of drinking. Otherwise, most of the ink has appeared since he moved to the UFC in 2013, including the large one on his chest of a gorilla wearing a crown and biting into a heart, and the tiger on his abdomen, between his last name and his nickname. McGregor also has a winged crucifix on the back of his neck, connected to a helix of thorns running down his spine, and a conglomeration of rose bushes, writing and human figures spread across his left forearm.
Arrests
In April 2018, two days before the UFC 223 event at the Barclays Center in Brooklyn, New York, McGregor showed up with an entourage at the end of a media event and proceeded to wreak havoc, throwing a hand truck at a bus. The smashed glass injured some of the UFC fighters inside, two of whom saw their upcoming fights canceled as a result.
White, who called the incident the «most despicable thing in UFC history,» said the Irish fighter attempted to justify his actions via text by explaining the bad blood between his and Nurmagomedov's camps. Turning himself in to the NYPD that night, McGregor was arrested and charged with three counts of assault and one count of criminal mischief.
In March 2019, McGregor was arrested on charges of strong-armed robbery and criminal mischief in Miami, Florida. According to the police report, the fighter slapped a phone out of a fan's hand as they left a club and proceeded to walk away with it. McGregor was booked into a Miami-Dade jail later that day and released after posting bond.
On March 26, the same day he announced his MMA retirement, it was revealed that McGregor was under investigation in Ireland for sexual assault. The alleged incident took place in Dublin in December 2018, leading McGregor's arrest and release the following month, pending further investigation.
'Conor McGregor: Notorious'
In the fall of 2017, MMA fans got a chance to see behind-the-scenes footage of the Irish fighter with the release of Conor McGregor: Notorious. Culled from four years of filming, the documentary follows his rise from the European Cage Fighters circuit to his perch as the sport's biggest star, capturing highlights like his blink-and-you'll-miss-it knockout of Jose Aldo, and the crushing loss to Nate Diaz. Notorious also drew praise for showing the tender side of the fighter through his relationship with girlfriend Dee Devlin, and his giddiness in meeting another European-born man who conquered America with his physical prowess, Arnold Schwarzenegger.
Personal Life
Those close to McGregor know the power behind the UFC throne lies in the hands of longtime girlfriend Dee Devlin. Also from Dublin, Devlin reportedly met McGregor at a nightclub in 2008, when his MMA career was getting off the ground. Although he was on welfare at the time—and remained so for many years after—she stuck with him through the unpredictable early stages of his career, eventually quitting her job as a secretary to travel with the fighter when he began achieving success.
A vital member of Team McGregor, Devlin helps to train the champ, cooks his meals and generally provides a soothing presence. She also added the invaluable role of mother on May 5, 2017, when she gave birth to Conor Jack McGregor Jr. In August 2020, the couple announced their engagement. They also welcomed daughter, Croia, in January 2019 and son Rían in May 2021.
Fact Check
We strive for accuracy and fairness. If you see something that doesn't look right, contact us!
Conor McGregor Biography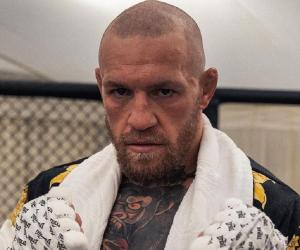 Born In: Crumlin, Dublin, Ireland
Conor McGregor is an Irish professional mixed martial artist who is currently signed with the 'Ultimate Fighting Championship' (UFC). He is the former 'UFC' lightweight and featherweight champion. Over the course of his career, he has competed as a featherweight, lightweight, and welterweight participant. Also a skilled professional boxer, he has achieved most of his victories due to knockouts or technical knockouts via punches. He started his mixed martial arts (MMA) career in 2008, and within a few years won two titles—Cage Warriors Featherweight and Lightweight Championships, which he held simultaneously before he vacated them to sign with 'UFC.' He is known for being in the biggest pay-per-view draw in MMA history, and he lives an extravagant lifestyle. In 2016, he got into the 'Forbes' top 100 highest paid athletes list—the first MMA fighter to do so—and ranked 85th in the list. He was injured during a bout with Max Holloway which kept him out of action for ten months. After winning the lightweight championship, he took some time off from 'UFC' prior to the birth of his first child in May 2017.
источники:
http://www.biography.com/athlete/conor-mcgregor
http://www.thefamouspeople.com/profiles/conor-mcgregor-33175.php