Alina Zagitova
Alina Zagitova: biography
Alina Zagitova is a young Russian figure skater who achieved great success in single figure skating and was awarded the title of Master of Sports of Russia.
Alina Zagitova was born on May 18, 2002 in Udmurtia, in Izhevsk. Being the eldest daughter of the famous trainer Ilnaz Zagitov, Alina is a Tatar girl. The figure skater is not the only child in the family. She has a younger sister Albina, who lives in Izhevsk.
Alina Zagitova | VK
Alina owes to her parents for her sports career. Her father is a coach of the ice hockey team «Izhstal». Alina's mother is not connected with sport, but she has been dreaming of figure skating all her life. Perhaps, that is why she decided to realize her unfulfilled dream in her daughter. As you know, the girl was named Alina in honor of Alina Kabaeva.
Alina Zagitova | VK
The future sportswoman began training at 5 years old, serious training began at the age of seven. Before that Alina just skated on the ice, even 6-7 times saying goodbye with enthusiasm. When the girl understood that she was well at skating, the hobby turned into a serious business. The sportswoman began to train in the Izhevsk Youth Sports School (which she attended until 2015). The first coach of the future figure skater was Natalia Alekseevna Antipina.
Alina Zagitova | VK
Up to 10 years, Alina could not win a single award. But then she met Eteri Georgievna Tutberidze.
Zagitova quickly broke into the sports world, surprising her opponents and showing amazing results. The video of her performances is the best proof of that!
Career
Zagitova met the well-known coach during the competitions in Moscow. According to Alina, she did not perform very well then. Being late for the train the girl persuaded her mother to go to Eteri Tutberidze. The coach after a brief conversation told the athlete to come after the celebration of New Year.
Alina Zagitova | VK
But relations with Tutberidze did not work out, and Alina went to Anna Tsareva's group. Later, a period of injuries followed: firstly, the girl broke her arm, and then a leg. After a long period of recovery, Alina had to re-learn how to skate. The figure skater once again tried to get into the group of Tutberidze at the SSC «Sambo-70», and this time her wish came true. Today, the athlete also trains with Sergei Dudakov.
Zagitova is in the group with the outstanding figure skater Evgenia Medvedeva — the winner of world records and the world champion of 2016.
Achievements
Participation in February 2016 in the championship of Russia, where Zagitova surprised the jury with a complex program, which included jumping and cascading. Alina's debut brought her 9th place. Perhaps her surprising plasticity is a result of her low height (152 cm).
Participation in the junior Grand Prix in France. In Saint-Gervais the figure skater managed to win her opponents by 16 points in two programs, gaining 194.37 points. She demonstrated confident skating and jump elements (performing triple rytberger and triple lutz).
Alina Zagitova | Vk
Winner of bronze at the next stage of the Junior Grand Prix in Slovenia.
She got to the junior final of the Grand Prix in Marseille. After the confident performance in St. Gervais, many experts expected that the athlete could not overcome the excitement and emotions, but Alina showed excellent results.
In Marseille, the athlete arrived a day later than the other skaters, as she forgot to register her parents' permission to travel abroad. According to the figure skater, the unpleasant incident motivated her to win. Tutberidze's mentee won the Junior Grand Prix final, having won both short and free programs. In total, the girl managed to score 207.43 points.
Participation in the Russian Championship in December 2016 in Chelyabinsk, brought the figure skater a silver medal. Zagitova became a real opening of the season. She managed to perfectly perform a complex program, and the most complex elements the athlete showed at the second part of her performance. The figure-skater managed to score 221.21 points, while Medvedeva scored 233.57 points. After the Championship, in an interview with journalists, Alina confessed that she was very pleased with the second place, and Evgenia Medvedeva encouraged her to strive for higher results. Experienced athletes said that the second place was a serious result for the girl.
In 2016, the sportswoman won the status of the Master of Sports of Russia in figure skating. By the end of 2016, the 14-year-old figure skater took the 83rd place in the ranking, created by one of the oldest sports federations — the International Skating Union.
Alexander Zhulin — a well-known coach and two-time winner of the Olympic Games, appreciated Zagitova's performance at the Russian championship in Chelyabinsk. Zhulin is delighted with Zagitova's technique and believes that Alina has great potential. In the future, when the athlete will participate in international competitions, she will be a real threat to her opponents.
At the European Championships in 2018 in Moscow Zagitova made a real furor. In a short program, Alina won Evgenia Medvedeva, becoming the champion of Europe.
On the 24th of March 2019 it became known that Alina Zagitova for the first time became the world champion at the competition held in Saitama, Japan. After this Alina became the first female figure skater who won all major tituls in female ice-skating — Olympic Games, Grand Prix of Figure Skating Final, World Figure Skating Championships and European Figure Skating Championships.
Personal life
The 14-year-old sportswoman lives in Moscow with her grandmother while her parents are in their native Izhevsk. It is the grandmother who shows the skater her mistakes and supports her. Alina is always training, and it is not known whether she has a boyfriend at the moment.
Alina Zagitova | VK
The athlete posts photos of her personal life in Instagram and Vkontakte. New photos are regularly posted in her group in Vkontakte, and in Instagram the girl publishes photos from holidays and trainings. So, in autumn 2016, Alina went to Egypt. There is no official page of Zagitova in Twitter.
Alina ZAGITOVA
Russian Federation RUS
Figure Skating
Biography
Alina ZAGITOVA
Alina Zagitova is one of Russia's finest ever figure skaters, and her country's first ever skater to achieve the feat of winning Olympic gold, the World Figure Skating Championships, European Figure Skating Championships and the Grand Prix of Figure skating. Her dominance, particularly over the last couple of years, has been extraordinary – but question marks remain over whether she will keep her momentum going toward Beijing 2022, after a difficult last 12 months for the Izhevsk-born athlete.
Still just 17, the PyeongChang 2018 Winter Olympic Games was the highlight of her remarkable career so far. Aged 15, she won the gold medal with an elegant, poised, but technically terrific performance.
Skating to 'Don Quixote', she was quick and precise, executing moves with ease to score 239.57 points. She landed seven triple jumps and received level-fours on her spins and step sequence. "I haven't fully realised yet that I've won," Zagitova said afterwards. "I need some time to understand that I won the Olympic Games."
Those in the know about figure skating tricks and techniques enthuse about Zagitova. She has a signature move – the triple lutz-triple loop combination – that she performs flawlessly, and she is also able to pull off other ultra-hard triple loop combinations, including the triple flip. Other combinations in her repertoire include the triple futz-triple toe, double axel-triple toe, and the triple flip-double toe-double loop. She has broken four scoring world record.
Zagitova is also the only female skater to perform two fully back-loaded programs in the 2017-18 season, prior to the implementation of the 'Zagitova Rule'.
Skating fans are waiting patiently to see whether they will see more of their hero soon. Zagotiva withdrew from contention for the 2020 Russian Championships, and did not participate in the European or World Championship events. "For me, figure skating is all about what I always worked for, and continue working for, since I was four years old," she said before her hiatus. "Forever I will be very grateful to my coaches for the tremendous job we have done. I am not planning either to stop or retire. I am still part of team Russia and still I can take part in international competitions for team Russia. I am continuing my figure skating way with the great support from my coaches."
10 Things to Know About Alina Zagitova, Russia's 15-Year-Old Figure Skating Champion
After helping the Russian squad win silver in the team competition, she's chasing the individual gold.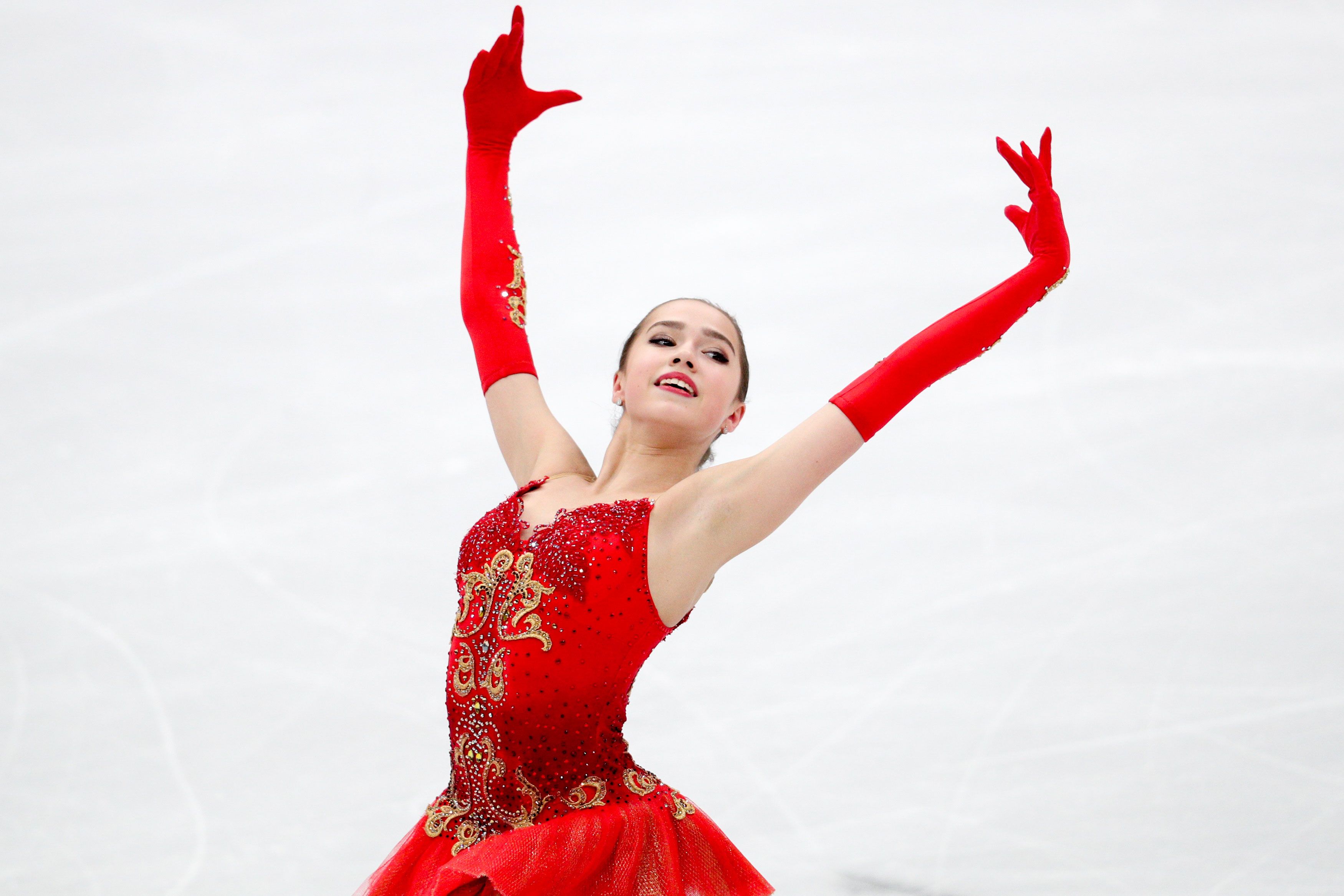 At 15 years old, Russian figure skater Alina Zagitova is already making waves in the sport. She's ranked fifth in the world as of January 21, and has the potential to win the gold at the Winter Olympics in PyeongChang. Here's everything you need to now about skating's newest superstar.
1. She was born in Izhevsk, Russia, almost 800 miles east of Moscow. But she moved to Moscow to live with her grandma at the age of 13. She now trains there.
2. She was named after another Russian performer. Alina's parents named her after watching Russian rhythmic gymnast Alina Kabaeva perform, according to the PyeongChang Olympics website . Just by the way, her parents didn't give her a name until she was one year old and they were watching gymnastics. They saw Kabaeva perform and were inspired. Now, Alina says Kabaeva is one of her idols. «I know how strong her character is. And I liked very much how she performed,» she said. As a totally unrelated side note, it's often been rumored that Kabaeva is dating/has dating Vladimir Putin (emphasis on the word rumored here).
3. Alina started training professionally in figure skating aged 6, and skating runs in her family. Her father, Ilnaz Zagitov, is an ice hockey coach who competed at the national level in Russia. Her younger sister Sabina is also a figure skater.
4. She says figure skating can be lonely. Alina lives away from her family, and said that, «the first months it was very difficult to cope with the fact that I do not see my relatives – mom, dad, sister. There was some devastation in my soul. But then we began to communicate on Skype and the mood improved.»
Zagitova also says she doesn't have that many friends. «Only in figure skating, there are people who I see constantly,» she said. «But this is sport, we are rivals"
5. She trains with Evgenia Medvedeva, who many favor to win the gold medal in PyeongChang. The two Russian skaters are poised to take first and second place at the Olympics. Despite the potential rivalry, the girls seem to support each other. «Zhenya congratulated me, and I congratulated her yesterday,» Zagitova said after the team competition on February 12, referring to Medvedeva by her Russian nickname. «We've really bonded during these competitions.»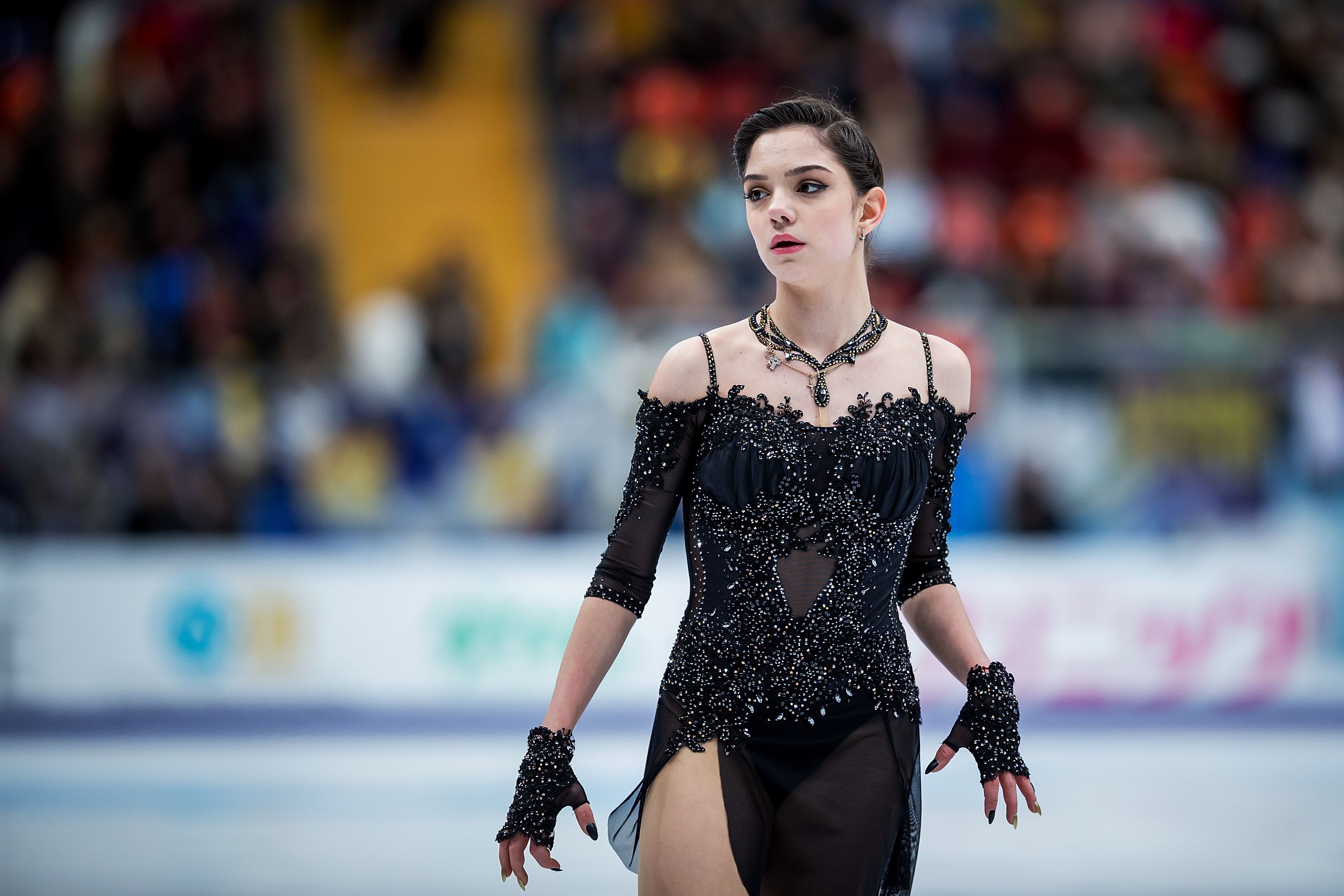 6. This is only her first season skating at the senior level. Up until this year, she had been skating at the junior level. She moved up to the senior level last summer, and winning her first medal at the 2017 CS Lombardia Trophy in September. In December, she won the Grand Prix Final and the Russian National Figure Skating Championship. She was named to the Olympic team in January after beating Medvedeva in the European Championships.
7. But she's already a world record holder. Her performance in the free skate at the Olympics on February 12 earned the highest ever technical score of any women's team skater at 158.08. She became the first figure skater in the world to put all her jumps in the second half of her program, because skaters are rewarded bonus points for anything they do in the second half.
8. Technically, she's competing as an Olympic Athlete from Russia, not a Russian Athlete. As a punishment for doping in the Sochi Olympics in 2014, Russian athletes cannot compete under the Russian flag. Instead, they're called Olympic Athletes from Russia. When they win medals, Russian athletes stand on the podium in an International Olympic Committee-approved neutral red tracksuit as the Olympic anthem plays, not the Russian anthem.
9. She has a pet chinchilla and it's really adorable. She also has cats.
10. And in her spare time, she likes to rhinestone. Yes, rhinestone. She also likes to draw and watch American TV shows.
Follow Emma on Instagram.
источники:
http://olympics.com/en/athletes/zagitova
http://www.cosmopolitan.com/entertainment/celebs/a17764250/alina-zagitova-figure-skater-olympics/