Acid Black Cherry オフィシャルサイト

English — Profile
Profile
Acid Black Cherryпјљyasu
Date of Birth: January 27th
Blood Type: A
Biography —>
Started 2007 as a solo project by rock band В· Janne Da Arc vocalist yasu. Known as ABC.
After doing a secret live at 15 locations nationwide from May 2007, debuted as a single «SPELL MAGIC» on July 18th.
Until now, I have released 19 single, 4 original albums and 3 cover albums, all original works enter Oricon TOP 5.
Acid Black Cherry FREE LIVE 2011 is held in commemoration of the 4th anniversary of ABC debut in July 2011.
Mobilized 40,000 people in 3 locations in Tomei-Osaka. The total number of entries exceeds 160,000.
In his third album «2012» released on March 21, 2012, he recorded his first Oricon Weekly Chart first appearance and became a hit work exceeding 200,000 copies.
The 15th single «Jesus» which is also a recorded song won first place in the 2012 USEN annual J-POP request ranking,
the number of views on youtube exceeds 9.8 million times, etc.
The reason for spreading ABC to the general level It was a song of.
Acid Black Cherry 5th Anniversary Live «Erect» was released in July 2013 with the 5th anniversary live tour of the National Yoyogi Daiichi Gymnasium Performance.
I won the first overall overall in the DVD chart. In addition to the Blu-ray chart, the music club achieved 2 crowns simultaneously.
From August 2013, we started «Proect» Shangri-la «» with the intention of going near and if you have someone who will smile even a bit through the music of ABC «.
This project is to carry out «all prefectures live» while simultaneously releasing «new songs»,
which is the pillar of three projects, «at the same time» event to touch with local fans.
All prefectural tours that all venues SOLD OUT mobilized the largest number of themselves,
including the arena tour which was conducted as an additional performance by 180,000 people.
In October 2014, we released the new single «INCUBUS» after the project «Shangri-la» ends.
He earned the second place in the Oricon Weekly chart, but he recorded his own highest initial sales volume while he was looking forward to the album.
On February 25, 2015, we released the fourth album «L-el -» for about three years.
This album is a concept album that intertwined epic stories and music that spelled the life of a woman who spent a life of disturbance,
and it has become more than 200,000 works in half a year, and a storybook is also a book.
Also, 2015 is the eighth anniversary of the debut, so the second ABC Dream CUP is held.
In the summer of 2015, a free live is held in Nagoya, Makuhari, Osaka in summer.
Mobilized a total of 100,000 people and recorded the number of mobilization in Japan as free live.
High quality of the work and outstanding singing ability played by Hightone Voice, live performances are out of the line,
it is very difficult to obtain a live ticket in the current music scene,
the number of CD sales is continuing to grow He is one of the rare artists.
Acid Black Cherry
Acid Black Cherry
Members of Acid Black Cherry
Acid Black Cherry
Band Members

Acid Black Cherry — это.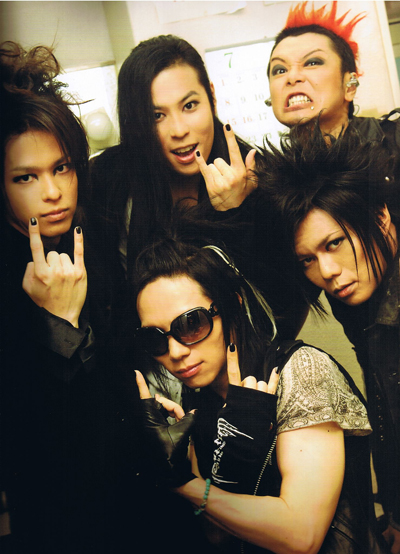 . сольный проект вокалиста группы Janne Da Arc —
-Yasu (Vocals)

Имя: Yasu (Ясу) vocals
Настоящее имя: Hayashi Yasunori
Дата рождения: 27 января 1975
Рост: 165 см
Вес: 57 кг
Место рождения: Осака
Группа крови: А
Любимая музыка: Традиционная японская музыка, поп, DEAD END, BOOWY
Цвет: Белый, голубой, серый
Сигареты: Kent 1 (о_О уважаю выбор)
Предыдущяя группа: Janne Da Arc
Akihide (Guitar)

Имя: Akihide (guitar)
Дата рождения: 5 июля
Группа крови: О
Увлечения: вокал, гитара, веб-дизайн, аранжировка, сочинение песен
Chisato (Guitar)

Имя:Chisato (guitar)
Дата рождения: 4 октября 1971
Рост: 178 см
Другие группы: Crack 6
Shuse (Bass)

Имя: Shuse (bass)
Дата рождения: 17 марта
Место рождения: Осака
Группа крови: A
Люимая музыка: The Beatles, Motley Crue and U2, Ozzy Osbourne,44Magnum
Увлечения: серфинг, игры, футбол, бухать
Jun-ji (Drums)

Имя: Jun-ji (drums)
Дата рождения: 30 марта
Место рождения:
Группа крови: B
Увлечения: мотоциклы (HARLEY-DAVIDSON)
SECRET LIVE Musicians
SECRET LIVE Musicians from 6 May — 10 Juni 2007


(Yuki= left / Makoto = right)
Acid Black Cherry
Biography
Acid Black Cherry is the vocalist of Janne Da Arc's solo project. The band's name is often seen shortened to «A.B.C.». Acid Black Cherry uses a lot of explicit suggestion in their songs but have not gotten complaints for it.
Background
Throughout the month of May 2007, yasu and Acid Black Cherry went on a secret nationwide tour of Japan, culminating in a show in Shinjuku which was webcast live to the world.
Their first single, SPELL MAGIC, released on July 18, 2007, debuting at # 4 on the Oricon Singles Charts in Japan. ABC's second single, entitled Black Cherry, was released on September 26, 2007, followed by a third single (November 28, 2007), Aishitenai.
Their fourth single, entitled Fuyu no Maboroshi, was released on January 16, 2008, to the number one spot on the Japanese Oricon Singles chart. All the singles feature cover versions of famous Japanese songs as B-sides; SPELL MAGIC contained Shinin' On Kimi ga Kanashii, a Look cover (1985); Black Cherry contained Hatsukoi, a Kozo Murashita cover (1983); Aishitenai was coupled with Ihoujin, a Saki Kubota cover (1979), and Fuyu no Maboroshi's cover track was Koi Hitoya, a Shizuka KudЕЌ cover (1988). These singles were then released as a full album titled Recreation; along with more covers by other artists such as Nakamori Akina (Slow Motion), Amin (Matsu wa) and Godiego (Beautiful Name) among others.
Acid Black Cherry's first album, BLACK LIST, was released on February 20, 2008. Additional guest artists appeared on this album, notably Daita and Jun-ji (ex members of Siam Shade fame) on guitar and drums respectively. Jun-ji is also a consistent member of Acid Black Cherry for touring and events.
In November of 2008, Acid Black Cherry released their sixth single, Jigsaw, based in small part on the American movie SAW, of which yasu is a fan. The song reached third place on Japan's Top 50 songs which became a sensation to the population of Japan.
On February 18, 2009, Acid Black Cherry released their seventh single, Nemuri Hime.
On July 29, 2009, Acid Black Cherry released their eighth single, Yasashii Uso.
источники:
http://diary.ru/~abcherry/p38644920_members-of-acid-black-cherry.htm
http://www.jpopasia.com/acidblackcherry/